As you may know, display advertising does not work so good on blogs or websites with rich content, and the best way to generate revenue is trough affiliate links, where you get comissions by promoting products. WP Auto Affiliate Links will automate the adding of links inside your content. It will automatically retreive affiliate links from amazon, clickbank and shareasale and add them inside your content so you can generate revenue. You can also manually add links trough a datafeed or by entering them one by line. Then, the plugin will decide on which words the links will be placed on all your posts or pages.
How it works
Step 1: Getting affiliate links automatically
Wp Auto Affiliate Links can get your affiliate links automatically from Amazon, Clickbank and Shareasale. You will have to add your affiliate ID so it will be added to the affiliate links. If you want to display affiliate links from another provider, you can upload them trough a datafeed provided by the network, or you can copy and paste the links directly into the plugin.
Step 2: Set your preferences
You can set the frequency of the affiliate links that will appear inside your content, if the links will have the rel="nofollow" attribute, or if they will open in the same or in a new window.
Step 3: Wait for the cheques
When the affiliate links are added in the database, they will start showing to your visitors. If they will visit the link and buy something you will get money.
 Main features
Add affiliate links inside all your articles
Get affiliate links from Amazon
Get affiliate links from Clickbank
Get affiliate links from Shareasale
Upload datafeed containing affiliate links
Add affiliate links one by one
Add rel="nofollow" to affiliate links
Open affiliate links in new or same window
Set the frequency of affiliate links
See all affilaite links, by category
Remove affiliate links that you don't like
Interface
The interfaced is very easy to use tabbed layout. Here is a screenshot from the plugin: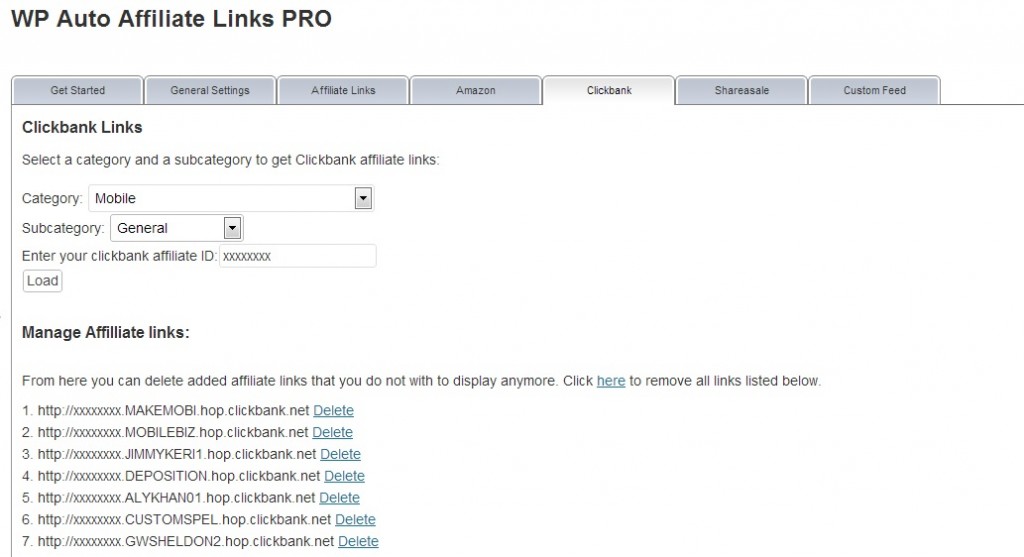 Pricing
Until 31 October 2012 you can get Wp Auto Affiliate Links PRO for only $79 ( reduced from $129 ). More, if you buy Wp Auto Affiliate Links PRO until the end of the month, you can get a licence that you can use on multiple websites. Usually, a licence can only be used on one website.
In this price you will get
The plugin files that you can install on your website whenever you want
Access to all plugin updates
Dedicated support and help
Click the following button to make a secure payment trough paypal and to get access to your copy of Wp Auto Affiliate Links.